Regular price
Sale price
$79.95 USD
Unit price
per
Sale
Sold out
FAST SHIPPING · 30-DAY RETURNS · LIFETIME GUARANTEE
Questions? Text us at 415-592-7626 
Vehicle Compatibility

Chevrolet Silverado 2019 - 2021 WT
Chevrolet Silverado 2019 - 2021 Custom
Chevrolet Silverado 2019 - 2021 Custom Trail Boss
Chevrolet Silverado 2019 - 2021 LT
Chevrolet Silverado 2019 - 2021 RST
Chevrolet Silverado 2019 - 2021 LT Trail Boss
Chevrolet Silverado 2019 - 2021 LTZ
Chevrolet Silverado 2019 - 2021 High Country

Chevrolet Silverado 2022 - 2023 WT
Chevrolet Silverado 2022 - 2023 Custom

Chevrolet Silverado HD 2500/3500 2020 - 2023 WT
Chevrolet Silverado HD 2500/3500 2020 - 2023 Custom
Chevrolet Silverado HD 2500/3500 2020 - 2023 LT
Chevrolet Silverado HD 2500/3500 2020 - 2023 LTZ
Chevrolet Silverado HD 2500/3500 2020 - 2023 High Country

Chevrolet Silverado HD 2500/3500 2024 WT
Chevrolet Silverado HD 2500/3500 2024 Custom

GMC Sierra 1500 2019-2021 SLT
GMC Sierra 1500 2019-2021 SLE
GMC Sierra 1500 2019-2021 ELEVATION
GMC Sierra 1500 2019-2021 AT4
GMC Sierra 1500 2019-2021 DENALI

GMC Sierra HD 2020-2023 2500/3500 PRO
GMC Sierra HD 2020-2023 2500/3500 SLE
GMC Sierra HD 2020-2023 2500/3500 SLT
GMC Sierra HD 2020-2023 2500/3500 AT4
GMC Sierra HD 2020-2023 2500/3500 DENALI

Offroam mount base is designed to work with OEM dashboard only and is not compatible with aftermarket modifications
Phone Compatibility

iPhone 15 Pro | 15 Pro Max
iPhone 15 | 15 Plus
iPhone 14 Pro | 14 Pro Max
iPhone 14 | 14 Plus
iPhone 13 Pro | 13 Pro Max
iPhone 13 | 13 mini
iPhone 12 Pro | 12 Pro Max
iPhone 12 | 12 mini
iPhone SE (2nd Generation)
iPhone 11 Pro | 11 Pro Max
iPhone 11
iPhone XS | XS Max
iPhone XR
iPhone X
iPhone 8 | 8 Plus
iPhone 7 | 7 Plus
iPhone SE (1st Generation)
iPhone 6s | 6s Plus
iPhone 6 | 6 Plus

All similarly sized Android devices from Google, Samsung and other manufacturers, including but not limited to:

Google Pixel 7 | 7a | 7 Pro
Google Pixel 6 | 6 Pro
Google Pixel 5
Google Pixel 4 | 4 XL
Google Pixel 3 | 3 XL

Samsung Galaxy S23 | S23+ | S23 Ultra
Samsung Galaxy S22 | S22+ | S22 Ultra
Samsung Galaxy A54 5G | A23 5G | A14 5G | A03s

The holder is compatible with handheld devices that will fit the dimensions specified: Width 2.4 - 3.82" [60 - 97mm]

Depth range: up to 0.67

Verify the dimensions of your device with a case / popsocket when determining the overall size.
What's in the Box

1x Offroam vehicle-specific mounting base
 with 20mm ball with included installation tools (unless otherwise noted in installation instructions)
1x Offroam double socket arm
1x Offroam phone holder with 20mm ball
Specifications

Phone holder width range
2.4 - 3.82 in. [60 - 97mm]

Phone holder depth range
up to 0.67 in. [up to 17mm]

Rated Capacity
1 lbf under normal use
Derate based on arm length and for heavy duty applications
Materials

Mounting base
CNC machined, black anodized & laser engraved aluminium with molded elastomer protective liner and black oxide stainless steel hardware

Double socket arm
Die cast & powder coated aluminium with molded plastic thumbnut

Holder
Holder CNC machined & black anodized. Grippy molded elastomer with thermally stable 3M adhesive. Stainless steel guide shafts and compression springs.
Offroam™ designs and makes phone mounts that are shaped to fit the make, model and year of your vehicle. That's why our mounts are the sturdiest money can buy.
Perfect view. Mount your phone in a perfect spot without blocking the view, controls, or air flow. Adjust the viewing angle and position with 360-degree swivel arm to keep your phone at a glance.
Universal & secure hold. Securely holds any large phone with a case or a PopSocket in portrait or landscape mode on any road.
One hand operation. Easily insert your phone with one hand into the butter-smooth, spring-loaded phone holder.
Simple install. Shaped to fit the existing features in your vehicle dashboard for a secure attachment and simple install without vehicle disassembly, drilling or glue in minutes with a provided Allen wrench.
Rugged all-metal construction. Made entirely of precision-machined & anodized aluminium for long-lasting performance in scorching heat or blistering cold. We got you, Texas and Alaska.
View full details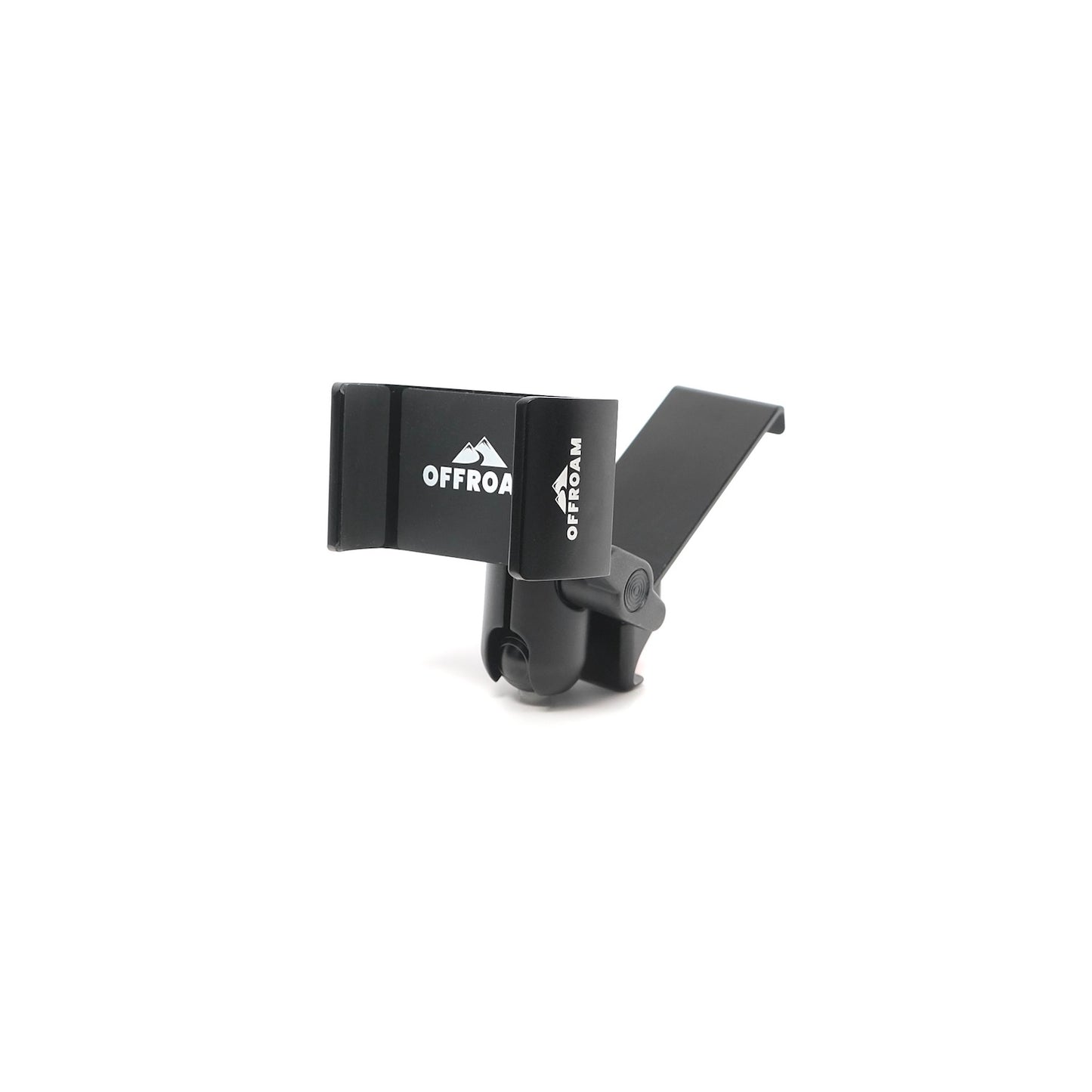 Fast Shipping

Most orders placed by 11AM CST ship the same business day.

Shipping Policy

Hassle-Free Returns

We will take back or exchange any product bought within 30 days of purchase

Returns Policy

Lifetime Warranty

All Offroam products are guaranteed against manufacturer's defects for an unlimited time.

Learn More
Designed for rough 4x4 trails. Offroam clamp is patent-pending mounting base that attaches securely to your vehicle and won't fall off, even over rough 4x4 trails or race days.
For any phone, even with a case. Offroam fits and holds any size modern phone (including iPhone 14 Pro Max), even in a case. Up to 3.8" wide and 0.67" thick.
No drilling, no glue. You shouldn't need to drill your new truck. Offroam mechanically clamps to the air vent without leaving any marks thanks to an embedded elastomer liner.
All the airflow you need. Whether in south Texas or in Alaska - you need the air vents to function. Offroam keeps your phone away from the vent so air goes where it's aimed, not the back of your phone.
Keeps the view clear. Offroam gives you an easy way to position your phone so you can see it without blocking the windshield.
2020 Silverado 1500 RST w/3.0 Duramax
Just got mine today and got it installed. What an amazing kit! Awesome construction throughout and stout.
A couple of comments that are likely specific to me and my truck:
I installed mine in the same position as shown here in the video. It did not simply slip on as easily as shown. It's pretty warm here right now and I think my interior temperature was the cause. I loosened up the screws generously, but could not get the top to hook in after seating the bottom. So I ended up doing it backwards. Hooked the top first and pulled down fairly gently until I could get the bottom to hook in, then tightened the screws. Honestly I was a bit worried about cracking the plastic bezel around the air vents and radio and didn't want to risk it. So just as easy, but backwards and it worked out fine.
Second, the kit includes the shorter arm. I run a Google Pixel 7 vertically and the best preferred position I got still places the USB cable at the very top left of the radio screen and obscures it slightly. For most people it's probably not a big deal. And honestly I can probably live with it. But I just ordered your longer arm and I'll see how that works out when I get it. I think it will give me that slight shift to the left that I'm looking for.
All that said, I'm 100% satisfied. No adhesives. No removing trim. No drilling holes. It's perfect. I went through a few window suction cup and cup holder mounts until this. This is hands down the best no mods phone mount for this GM generation.