Regular price
Sale price
$79.95 USD
Unit price
per
Sale
Sold out
FAST SHIPPING · 30-DAY RETURNS · LIFETIME GUARANTEE
Questions? Text us at 415-592-7626 
Vehicle Compatibility

The clamp is designed for stock air vents. It is not compatible with 3rd party air vent modifications.

Toyota 4Runner 2010 - 2013 (All trims except with Navigation screen)
Phone Compatibility

iPhone 15 Pro | 15 Pro Max
iPhone 15 | 15 Plus
iPhone 14 Pro | 14 Pro Max
iPhone 14 | 14 Plus
iPhone 13 Pro | 13 Pro Max
iPhone 13 | 13 mini
iPhone 12 Pro | 12 Pro Max
iPhone 12 | 12 mini
iPhone SE (2nd Generation)
iPhone 11 Pro | 11 Pro Max
iPhone 11
iPhone XS | XS Max
iPhone XR
iPhone X
iPhone 8 | 8 Plus
iPhone 7 | 7 Plus
iPhone SE (1st Generation)
iPhone 6s | 6s Plus
iPhone 6 | 6 Plus

All similarly sized Android devices from Google, Samsung and other manufacturers, including but not limited to:

Google Pixel 7 | 7a | 7 Pro
Google Pixel 6 | 6 Pro
Google Pixel 5
Google Pixel 4 | 4 XL
Google Pixel 3 | 3 XL

Samsung Galaxy S23 | S23+ | S23 Ultra
Samsung Galaxy S22 | S22+ | S22 Ultra
Samsung Galaxy A54 5G | A23 5G | A14 5G | A03s

The holder is compatible with handheld devices that will fit the dimensions specified: Width 2.4 - 3.82" [60 - 97mm]

Depth range: up to 0.67

Verify the dimensions of your device with a case / popsocket when determining the overall size.
What's in the Box

1x Offroam vehicle-specific mounting base
 with 20mm ball with included installation tools (unless otherwise noted in installation instructions)
1x Offroam double socket arm
1x Offroam phone holder with 20mm ball
Specifications

Phone holder width range
2.4 - 3.82 in. [60 - 97mm]

Phone holder depth range
up to 0.67 in. [up to 17mm]

Rated Capacity
1 lbf under normal use
Derate based on arm length and for heavy duty applications
Materials

Mounting base
CNC machined, black anodized & laser engraved aluminium with molded elastomer protective liner and black oxide stainless steel hardware

Double socket arm
Die cast & powder coated aluminium with molded plastic thumbnut

Holder
Holder CNC machined & black anodized. Grippy molded elastomer with thermally stable 3M adhesive. Stainless steel guide shafts and compression springs.
Offroam™ designs and makes phone mounts that are shaped to fit the make, model and year of your vehicle. That's why our mounts are the sturdiest money can buy.
Perfect view. Mount your phone in a perfect spot without blocking the view, controls, or air flow. Adjust the viewing angle and position with 360-degree swivel arm to keep your phone at a glance.
Universal & secure hold. Securely holds any large phone with a case or a PopSocket in portrait or landscape mode on any road.
One hand operation. Easily insert your phone with one hand into the butter-smooth, spring-loaded phone holder.
Simple install. Shaped to fit the existing features in your vehicle dashboard for a secure attachment and simple install without vehicle disassembly, drilling or glue in minutes with a provided Allen wrench.
Rugged all-metal construction. Made entirely of precision-machined & anodized aluminium for long-lasting performance in scorching heat or blistering cold. We got you, Texas and Alaska.
View full details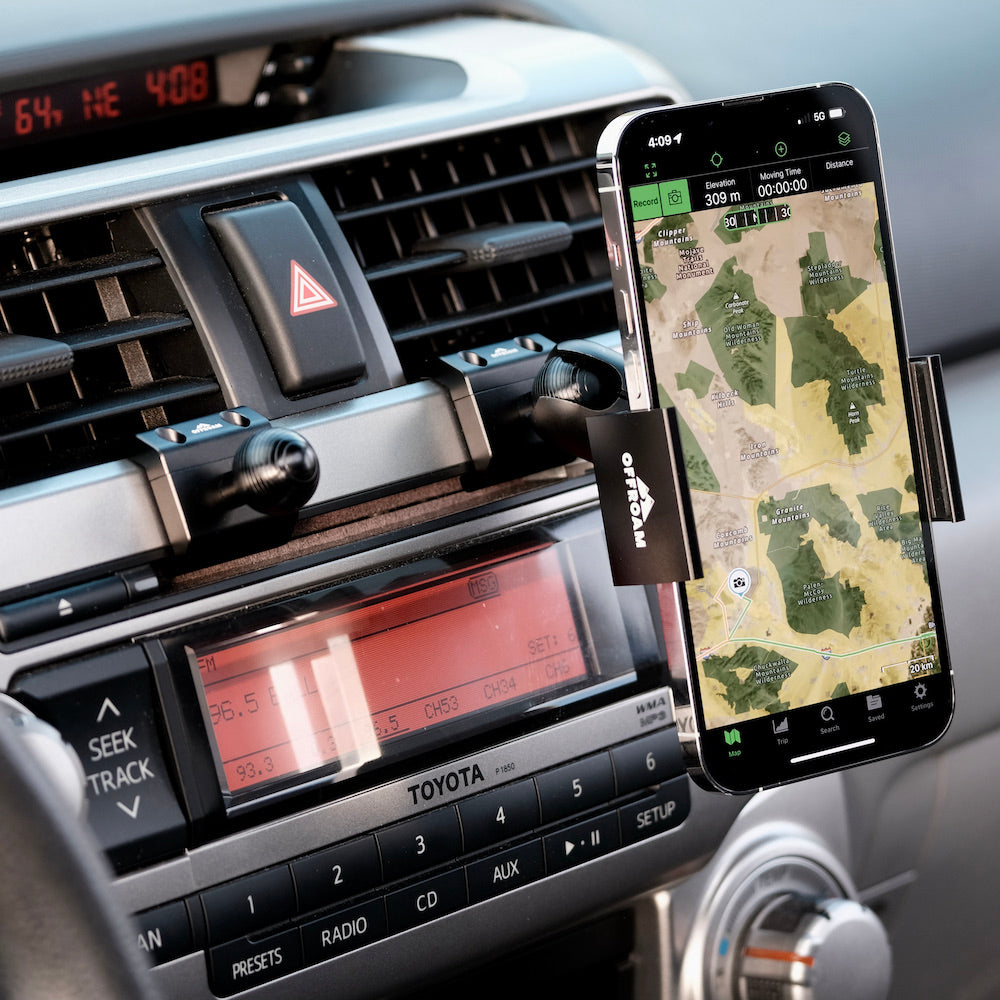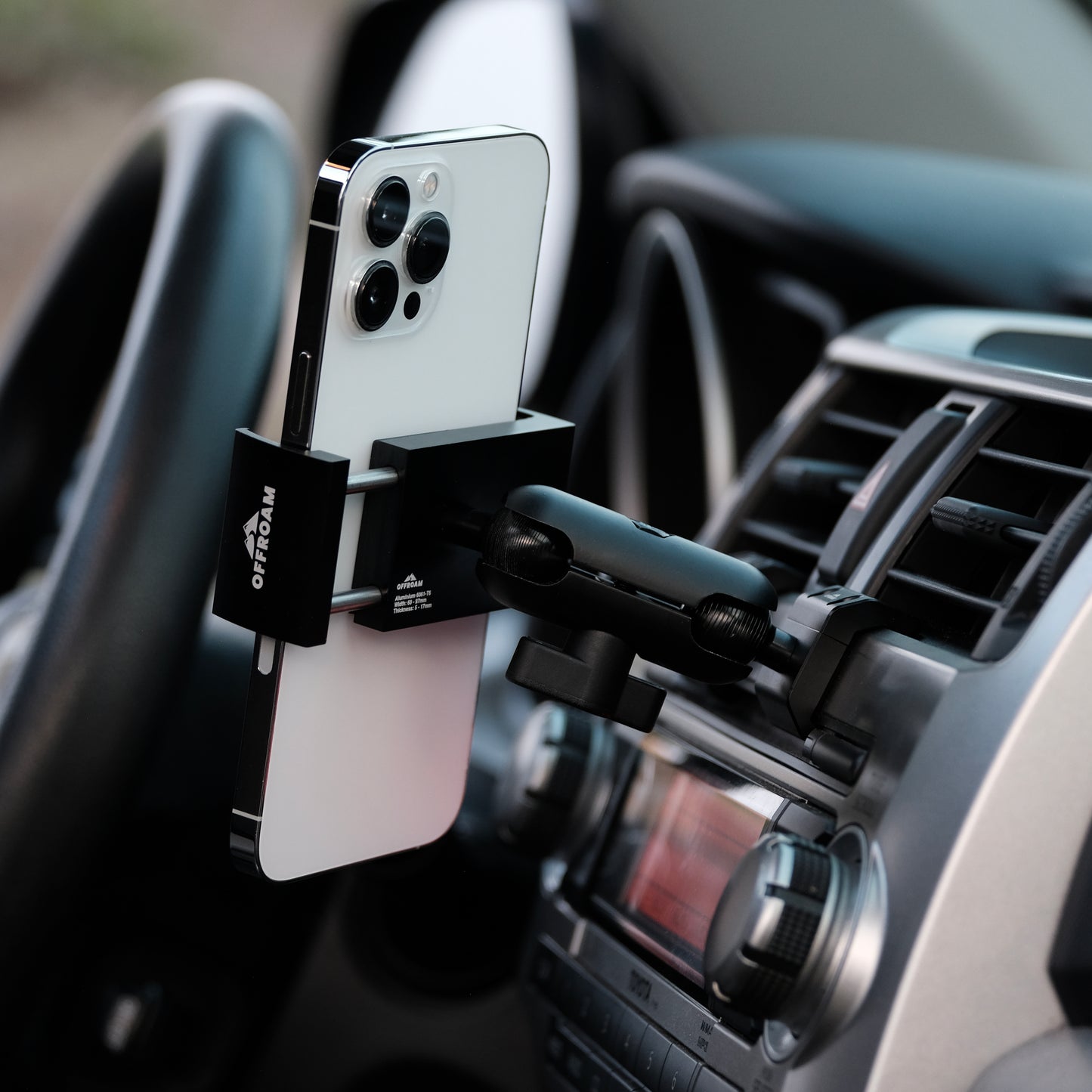 Fast Shipping

Most orders placed by 11AM CST ship the same business day.

Shipping Policy

Hassle-Free Returns

We will take back or exchange any product bought within 30 days of purchase

Returns Policy

Lifetime Warranty

All Offroam products are guaranteed against manufacturer's defects for an unlimited time.

Learn More
Designed for rough 4x4 trails. Offroam clamp is patent-pending mounting base that attaches securely to your vehicle and won't fall off, even over rough 4x4 trails or race days.
For any phone, even with a case. Offroam fits and holds any size modern phone (including iPhone 14 Pro Max), even in a case. Up to 3.8" wide and 0.67" thick.
No drilling, no glue. You shouldn't need to drill your new truck. Offroam mechanically clamps to the air vent without leaving any marks thanks to an embedded elastomer liner.
All the airflow you need. Whether in south Texas or in Alaska - you need the air vents to function. Offroam keeps your phone away from the vent so air goes where it's aimed, not the back of your phone.
Keeps the view clear. Offroam gives you an easy way to position your phone so you can see it without blocking the windshield.
Look no further, this is the perfect phone holder 🔥
I recently got a 2012 4Runner and have been looking online to find a phone holder that wouldn't get in the way of the airflow of the AC yet be high enough to reach. I didn't want to drill anything into the radio unit or stick anything onto the window since it would just come off or damage the car. I luckily came across this phone holder on a Google search and immediately knew this was what I've been looking for. It's very simple to install. I have an iPhone 12 Pro with an Otterbox case and it fits snug. Doesn't drop the phone when im driving and it's at the perfect height that I can keep my eyes on the road and follow along with the GPS or any notification I get. Honestly, no need to get a touch screen display or anything if you have a good size phone and just want it to save some dough. Shipping was quick and I would highly recommend any other 5th Gen 4Runner (OG) drivers out there to look into this phone holder for their rides.
Hey Oscar! Thank you for your business and for this awesome, informative review, we appreciate you. You're right, there no need to get a touch screen display if you have a good sized phone - you can 'upgrade' your older truck by mounting your phone in the field of vision, while keeping the eyes on the road. We have a 2001 Toyota Tacoma and we know this from personal experience! So happy you're enjoying the Offroam phone mount for your 2012 4Runner.
Happy Trails,
Alexa
Perfect solution
This phone is the perfect solution especially for the early 5th gen 4Runner. 100% satisfied! No drilling, no talking the dash apart. Installs in less than 5 minutes. Does what the description says. What more could you want?