Regular price
$119.95 USD
Regular price
Sale price
$119.95 USD
Unit price
per
Sale
Sold out
A Peak Design Everyday Case or MagSafe equipped phone/case is required to use this product (shop below).
FAST SHIPPING · 30-DAY RETURNS · LIFETIME GUARANTEE
Questions? Text us at 415-592-7626 
Vehicle Compatibility

Jeep Wrangler JL (2018 - 2023)
Jeep Gladiator JT (2019 - 2023)

Fits center dash air vents only.
Fits all trim levels including 4xe, Rubicon, Rubicon 392.

Does not block air flow.
Air vent aim rotation is locked after installation.
Air vent can be opened and closed after installation.

Offroam mount base is designed to work with OEM air vents only and is not compatible with aftermarket air vent modifications.
Phone Compatibility

Requires a Peak Design Case (sold separately) or Apple MagSafe phone case.

Also works with MagSafe-equipped phones without a case:
iPhone 15 Pro | 15 Pro Max
iPhone 15 | 15 Plus
iPhone 14 Pro | 14 Pro Max
iPhone 14 | 14 Plus
iPhone 14 Pro | 14 Pro Max
iPhone 13 Pro | 13 Pro Max
iPhone 13 | 13 mini
iPhone 12 Pro | 12 Pro Max
iPhone 12 | 12 mini
What's in the Box

1x Offroam x Peak Design magnetic charging holder with 20mm ball
1x Offroam double socket arm
1x Offroam vehicle-specific mounting base
 with included installation tool
1x Charger plug with 20W USB-C Output
1x 1m long USB-C to USB-C charging cable
3x Cable management clips
Specifications

Mount Head: 5.5cm x 5.5cm x 0.7cm (2.2" x 2.2" x 0.3")
Total Height (from dashboard): 3.7cm (varies depending on ballhead position)
Base Pad: 3cm x 5cm (1.9" x 2.0")
Ball Diameter: 20mm
Materials

Clamp CNC machined, black anodized & laser engraved aluminium with molded silicone protective liner. Black oxide stainless hardware.

Holder CNC machined & black anodized.

Arm die cast and powder coated aluminium.
One Hand Use. Magnetic-hold phone charger is quick to attach and remove with one hand.
MagSafe and Peak Design Compatible. Designed to work with MagSafe equipped iPhones and cases or with any other phone with a Peak Design case (sold separately).
Strong and Secure for Offroad Use.

Holder has internal magnets designed to securely hold even heavy phones on the most potholed city streets to the gnarliest offroad trails.

Simple Install. The Offroam mounting base installs without drilling or disassembly in minutes and does not block the windshield. The mounting base is lined with an elastomer that protects your dashboard from marks so you can remove the clamp at any time.
Perfect View. Use the double socket connecting arm with a single hand-tightening knob for full adjustability of your Offroam mounting system
Vehicle Specific. Designed specifically for Jeep Wrangler & Jeep Gladiator.
Built to Last. Made entirely of marine-grade aluminium, stainless steel and quality 3M elastomers for durability in 4x4 and other demanding environments.
View full details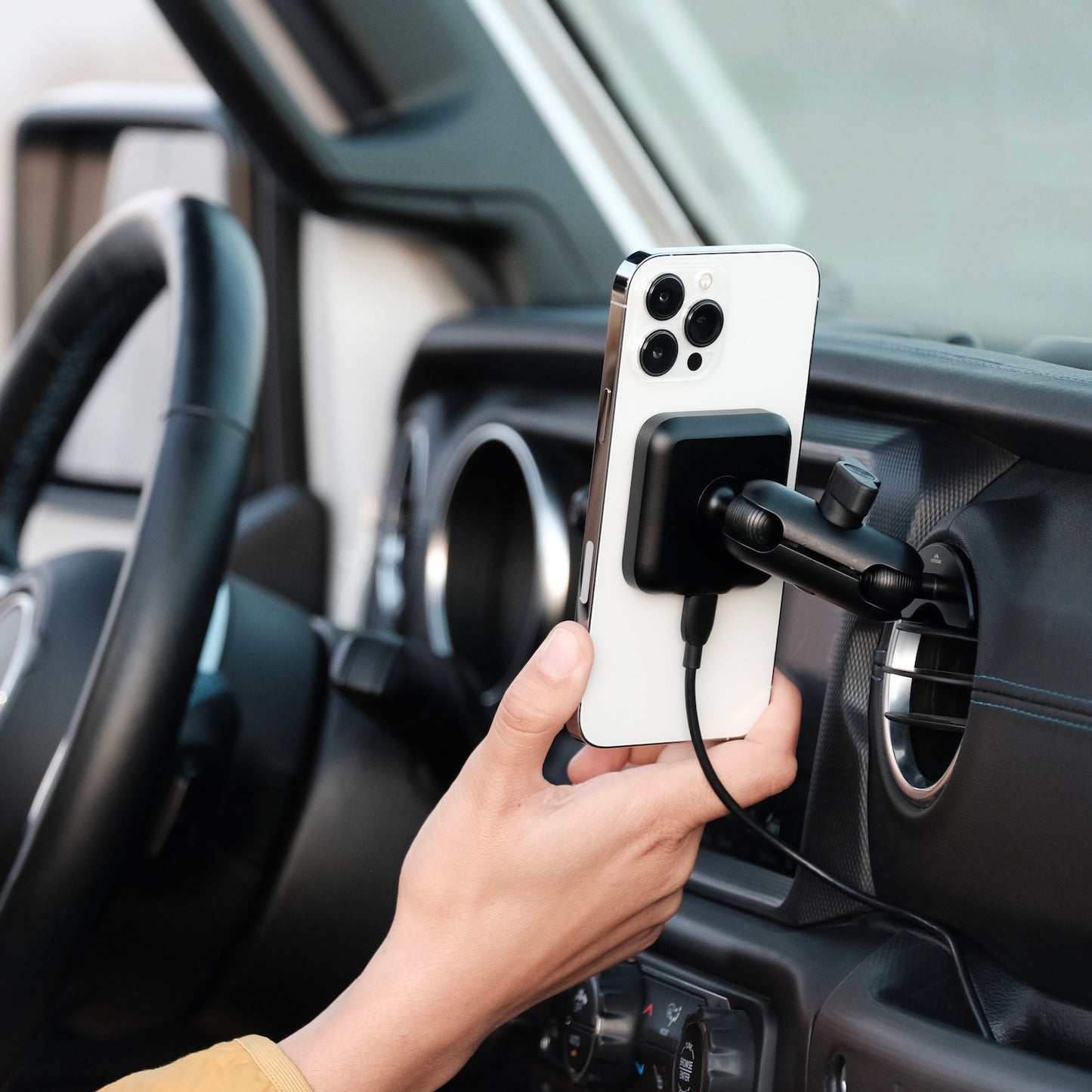 Magnetic, Wireless
A wireless charging phone mount so beautiful, secure, and intuitive, once you install it in your car you'll feel like it was there from the start. Unlike flimsy plastic mounts, the Offroam x Peak Design 4x4 Mount is made from machined anodized aluminum designed to fit your specific vehicle, without adhesives or drilling.

Ultra strong MagSafe compatible magnets hold your phone in place during the most demanding driving. Easily adjust your phone viewing angle with our double socket arm. The small mount size lets you position your phone right where you need it without obstructing your road view.
A magnetic case that will hold your phone on any road
Ultra-strong MagSafe-compatible magnets hold your phone in place even during the most spirited driving.
"We don't say this often, but there aren't any flaws"

"A mini-masterpiece of design and engineering"
Vendor:

Regular price

Sale price

$39.95 USD

Unit price

per

Vendor:

Regular price

Sale price

$39.95 USD

Unit price

per

Vendor:

Regular price

Sale price

$39.95 USD

Unit price

per
Jeez, not another vent-mounted phone charger...
Well, it is, but it's not your typical one. Most want to use plastic clips to hold a heavy phone to an A/C vent, and that goes sideways pretty quick. This one is nearly all metal, featuring a strong magnetic pad and a metal clamp to attach everything to the vent. As with most Jeep installs, the install took 5 times longer than the instructional video I watched, but fortunately the video was 3 minutes long so the install took just 15 minutes. :) The trouble was with the vent clamp... I could get one side on but not the other. I wish that screw was just a liiiiiittle bit longer. Finally I got it just right and it popped on. Tightened everything down and it was solid. Making a small adjustment to the barrel and charger pad orientation was a snap.
I use an Apple MagSafe silicon case, so I've had no issues with the phone moving, sliding, or falling off. I also have a dubious third-party "MagSafe" case and it barely sticks to this or any of my other charging pads, so be aware that not all MagSafe cases are created equal. The provided charging cable and cigarette lighter bullet work fine. Also in the box were three cable clips to keep the cable tidy.
Yes, it's expensive, but it's solid quality and it really works. Thank you for a great product!
Exactly what I needed
Everything is designed and works exactly as described. I particularly like the lack of tacky branding that I see on many systems.
Great Product!
We have gone through so many different products to try to mount our phone in our Jeep. This is the only one that has worked! And shipping was so fast!
The Best!
I have tried a lot of phone mounts. This by far is the BEST! I highly recommend this product. Phone stays secure on the magnetic part and the piece attached to the air vent stays secure and never needs adjustment. Finally found a phone mount I will not be replacing every few months.
Exactly as advertised
I love this charger, it fits my Jeep Gladiator perfectly, plus the cord clips make it look tidy.
Fast Shipping

Most orders placed by 11AM CST ship the same business day.

Shipping Policy

Hassle-Free Returns

We will take back or exchange any product bought within 30 days of purchase

Returns Policy

Lifetime Warranty

All Offroam products are guaranteed against manufacturer's defects for an unlimited time.

Learn More