Regular price
$119.95 USD
Regular price
Sale price
$119.95 USD
Unit price
per
Sale
Sold out
A Peak Design Everyday Case or MagSafe equipped phone/case is required to use this product (shop below).
Does not F-150 Lightning Lariat or Platinum with 15-in. display.
FAST SHIPPING · 30-DAY RETURNS · LIFETIME GUARANTEE
Questions? Text us at 415-592-7626 
Vehicle Compatibility

The product is custom designed to fit OEM dashboard only in the upper inner corners of center air vents of the following vehicles:

Ford F-150 (2021-2024)
Ford F-150 Lightning (2022-2023) (PRO and XLT trims only)
Ford F-250 / F-350 (2023+)

The product is not compatible with 3rd party dashboard modifications.

The product may block the Blue Cruiser infrared driver facing camera located above the SYNC screen.
Phone Compatibility

Requires a Peak Design Case (sold separately) or Apple MagSafe phone case.

Also works with MagSafe-equipped phones without a case:
iPhone 15 Pro | 15 Pro Max
iPhone 15 | 15 Plus
iPhone 14 Pro | 14 Pro Max
iPhone 14 | 14 Plus
iPhone 14 Pro | 14 Pro Max
iPhone 13 Pro | 13 Pro Max
iPhone 13 | 13 mini
iPhone 12 Pro | 12 Pro Max
iPhone 12 | 12 mini
What's in the Box

1x Offroam x Peak Design magnetic charging holder with 20mm ball
1x Offroam double socket arm
1x Offroam vehicle-specific mounting base
 with included installation tool
1x Charger plug with 20W USB-C Output
1x 1m long USB-C to USB-C charging cable
3x Cable management clips
Specifications

Mount Head: 5.5cm x 5.5cm x 0.7cm (2.2" x 2.2" x 0.3")
Total Height (from dashboard): 3.7cm (varies depending on ballhead position)
Base Pad: 3cm x 5cm (1.9" x 2.0")
Ball Diameter: 20mm
Materials

Clamp CNC machined, black anodized & laser engraved aluminium with molded silicone protective liner. Black oxide stainless hardware.

Holder CNC machined & black anodized.

Arm die cast and powder coated aluminium.
One Hand Use. Magnetic-hold phone charger is quick to attach and remove with one hand.
MagSafe and Peak Design Compatible. Designed to work with MagSafe equipped iPhones and cases or with any other phone with a Peak Design case (sold separately).
Strong and Secure for Offroad Use.

Holder has internal magnets designed to securely hold even heavy phones on the most potholed city streets to the gnarliest offroad trails.

Simple Install. The Offroam mounting base installs without drilling or disassembly in minutes and does not block the windshield. The mounting base is lined with an elastomer that protects your dashboard from marks so you can remove the clamp at any time.
Perfect View. Use the double socket connecting arm with a single hand-tightening knob for full adjustability of your Offroam mounting system
Vehicle Specific. Designed specifically for the Ford F-150 2021+, F-150 Lightning 2022+ XL and PRO trims only F-250/F-350 2023+,
Built to Last. Made entirely of marine-grade aluminium, stainless steel and quality 3M elastomers for durability in 4x4 and other demanding environments.
View full details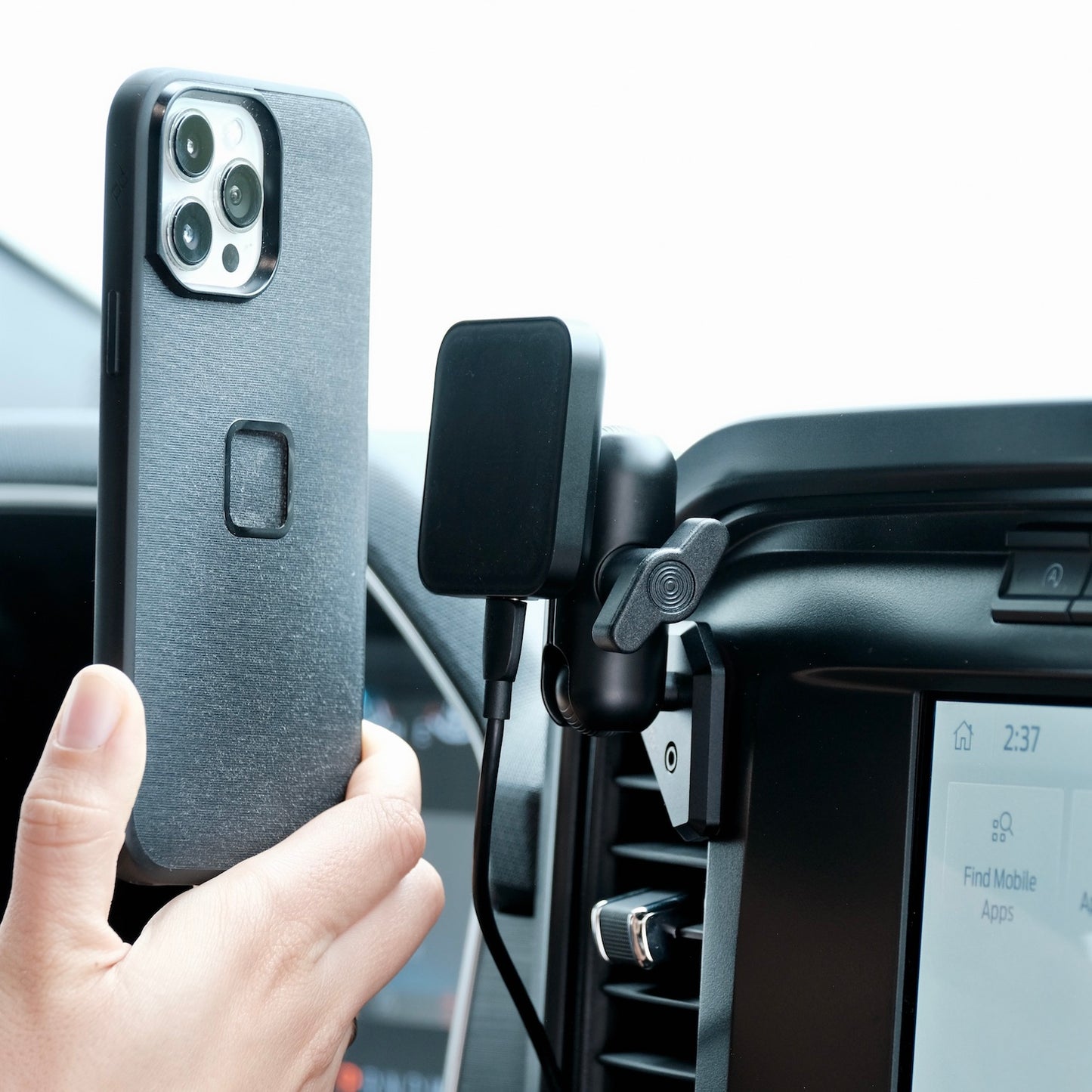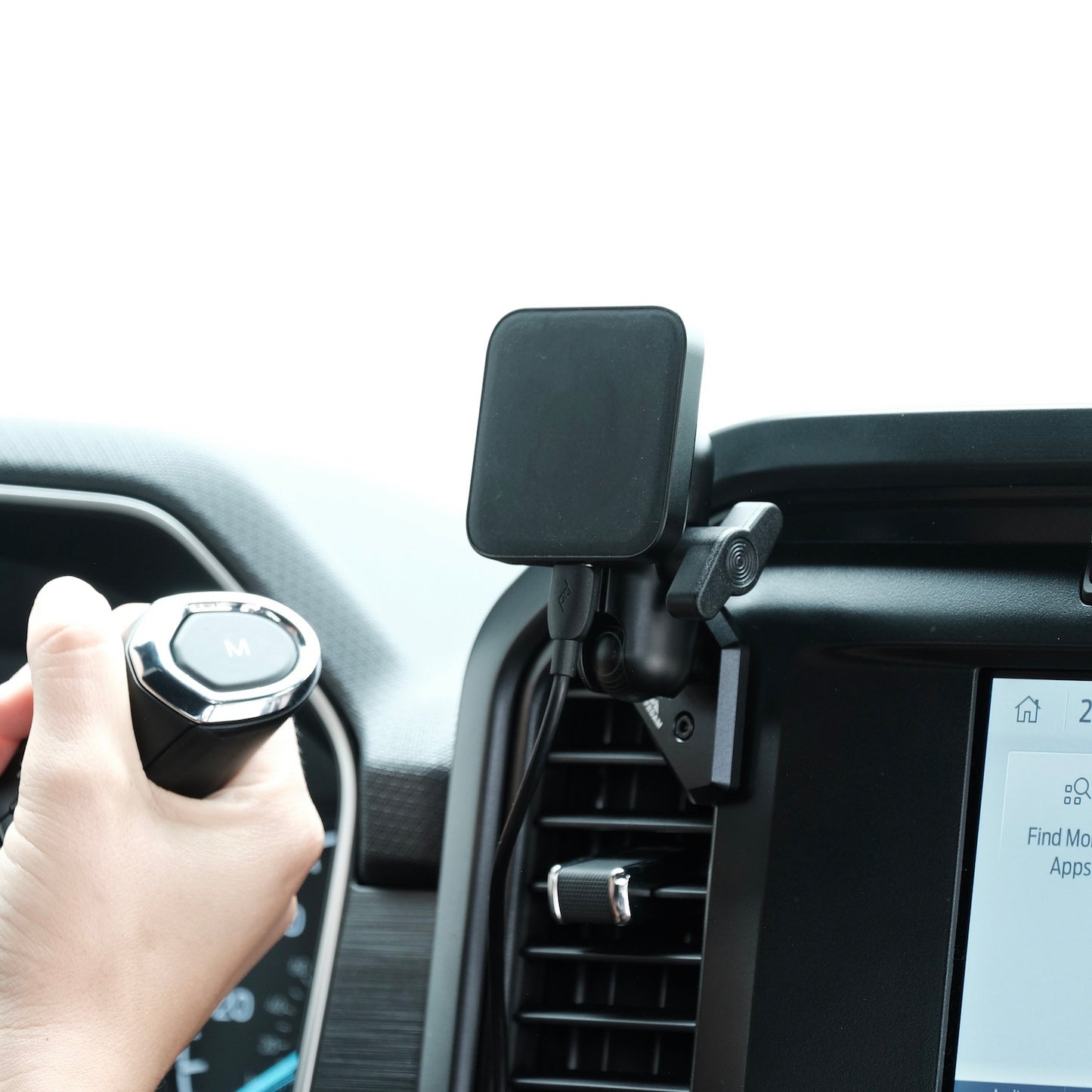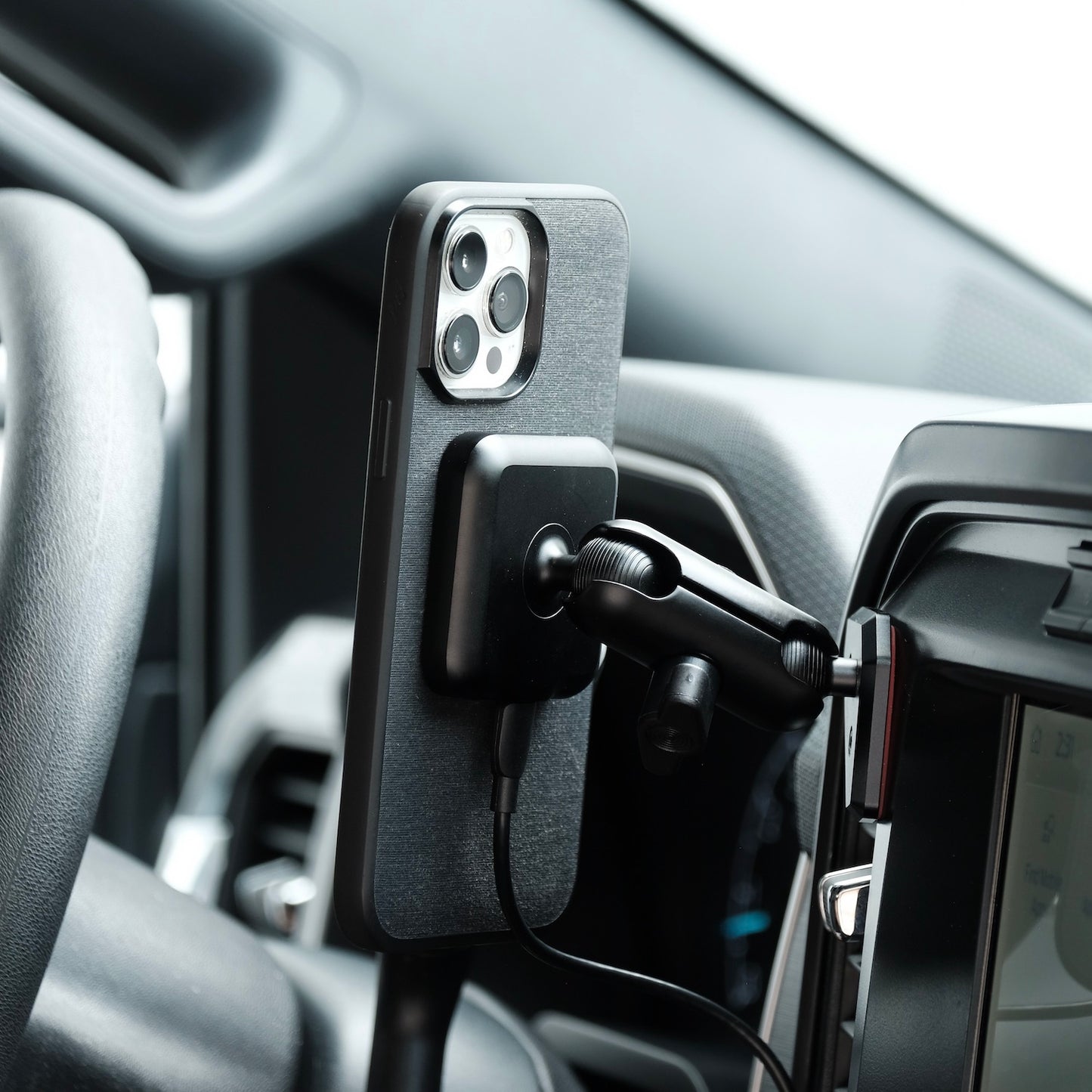 Magnetic, Wireless
A wireless charging phone mount so beautiful, secure, and intuitive, once you install it in your car you'll feel like it was there from the start. Unlike flimsy plastic mounts, the Offroam x Peak Design 4x4 Mount is made from machined anodized aluminum designed to fit your specific vehicle, without adhesives or drilling.

Ultra strong MagSafe compatible magnets hold your phone in place during the most demanding driving. Easily adjust your phone viewing angle with our double socket arm. The small mount size lets you position your phone right where you need it without obstructing your road view.
A magnetic case that will hold your phone on any road
Ultra-strong MagSafe-compatible magnets hold your phone in place even during the most spirited driving.
"We don't say this often, but there aren't any flaws"

"A mini-masterpiece of design and engineering"
Vendor:

Regular price

Sale price

$39.95 USD

Unit price

per

Vendor:

Regular price

Sale price

$39.95 USD

Unit price

per

Vendor:

Regular price

Sale price

$39.95 USD

Unit price

per
Best Phone Mount Out There
I researched mounts for awhile and decided on this one. I was impressed with how it mounts solid to my truck. Other mounts are suction or adhesives. Not this mount. It mounts strong and secure and will never fall off. Its great that I can mount my phone and charge all in one. I have tried other brands and this is the best by far. Buy this and you wont be disappointed!
The best phone mount
I've been using the mount for about 3 weeks now and I have to say it is fantastic. It's so solid and almost no play when taking the phone on an off the mount. I did replace my arm with one from Amazon that is about 1" longer and this moved it perfectly out of the airstream and still doesn't wobble or vibrate. The wireless charger I think is hit or miss.. some days it charges pretty good, and some times it's really slow.. it works for my needs and when I want to charge faster, I just unplug from the mount and plug into my phone. Super happy with this compared to many other models from other company's that make their mounts out of plastic.. They have them mounting in places that flex or move and also having to permanently modify the truck with drilling holes.. This whole mount is made out of aluminum and is rock solid, 5 stars.
Dear Dustin, thank you for your kind words and review! No more wiggly phone.
Happy Trails,
Alexa
Bday present
Everything about this product is amazing it's all metal and really nice lock and hold. Hold other 14pro max with big cases no problem the phone has never fallen I am going to buy one for my own truck now because of how grate this product is.
This mount is a love hate relationship...
First off I'll say that the ease of install and the magnetic function alone are nearly worth the price tag. That is where the love starts to fade... I have this mount installed in my 2021 Ford F-150 Raptor and I'm using an iPhone 14 Pro Max... With this combo, I feel like the iPhone blocks too much air coming out of the primary vent that cools the driver (that's me) and I feel like I have to remove the iPhone from the mount until I get comfortable, temp wise, then I can put it back on. If the arm on the mount was another 1.5" or 2" long, I believe that would sort that problem out. I'm guessing it's the length it is, to help with vibration, thinking the longer arm might cause a little more of that. Then there's the charging part of the equation. If I'm just plugging into the factory USB-C slot, the wireless magnetic mount will not charge my iPhone to a higher level than whatever it is when I attach it. It will maintain the current level of charge, but if you are using any apps, the charge level will not go up. I'm fairly certain the 20w adapter that came with it would solve that, but then I'd have a cable running diagonally across my dash, which just isn't an option for me. So right now, If I need to actually charge my iPhone while it's attached to the mount, I just plug in the factory lightning cable directly into the iPhone and keep the it on the mount. Semi defeats the purpose of having a "wireless" charger, but it works and I dig the overall location of the mount. I'm going to order a longer 20mm arm, to attempt to move the iPhone out of the airstream. Then I might look into rerouting and hiding the cable and using the 20w adapter. Hope that helps! Overall solid mount, built like a tank, a smaller phone would help keep it out of the airstream and using 20w adapter seems like a must.
Hey Butch! Thank you for your business and for your feedback. We read every single review. You're absolutely right - to get a continuous, fast charge with your magnetic charger, you'd need to use the cigarette lighter plug we provide in packaging box. Your F-150 (as powerful as it looks!) cannot supply enough power via USB-C for a continuous and fast charge, that's why we provide the cigarette plug. One option is to get a longer cable so you can use the cigarette lighter and route the cable the way you like it along your dash.
As for the arm - you're also right - our arm is the length it is (one of the shortest on the market) to make your phone mount stable and secure, without any wiggle or vibration. If you mount your arm vertically and flush with the dash, you will be able to position your phone away from the airflow. Getting a longer arm is always an option, although our product engineers don't typically recommend it because it increases pressure on the air vent.
Happy trails and enjoy your phone mount!
Alexa
Fast Shipping

Most orders placed by 11AM CST ship the same business day.

Shipping Policy

Hassle-Free Returns

We will take back or exchange any product bought within 30 days of purchase

Returns Policy

Lifetime Warranty

All Offroam products are guaranteed against manufacturer's defects for an unlimited time.

Learn More