Phone Mount Kit - Toyota Tundra Gen 2.5 (2014-2021)
Regular price

Sale price

$79.95 USD

Unit price

per
FAST SHIPPING 
· 30-DAY RETURNS
· LIFETIME
 GUARANTEE
Questions? Text us at 

415-592-7626
DESCRIPTION

Universal fit phone holder for all phones even with a wide case or pop socket has soft internal springs with 3M elastomer-lined grip sides that deliver great holding power while making it easy to secure the phone with one hand
Double socket connecting arm with a single hand-tightening knob for full adjustability of your Offroam mounting system
Toyota Tundra specific mounting base installs without drilling or disassembly in minutes and does not block air flow
Made entirely of marine-grade aluminium, stainless steel and quality 3M elastomers for durability in 4x4 and other demanding environments
SPECIFICATIONS

This three-piece phone mount kit consists of a Toyota Toyota Tundra (2nd Gen) - specific air vent mounting base (Offroam Clamp), a double socket arm, and a universal spring loaded holder for cell phones. This mount kit is based on a 20mm diameter grooved aluminium ball and socket system with a single adjustment knob in the middle of the socket arm that allows nearly infinite adjustment of your phone to your preferred position. The patent-pending design allows for easy installation without drilling, while serving as a sturdy mounting base for heavy off-road use. The Offroam clamp does not block the air flow and the coupling arm allows positioning your phone away from the air vent while also keeping your phone from blocking the windshield. This phone mount is the perfect complement your Toyota interior. 
Included Components
Vehicle Compatibility

Toyota Tacoma 3rd Gen (2016 - 2022)
Toyota Tundra 2nd Gen (2014 - 2021)

The clamp is designed for stock air vents. It is not compatible with 3rd party air vent modifications, such as Meso Customs black-out trim.
Device Compatibility

iPhone 6/7/8 including Plus
iPhone X/XS including Max
iPhone XR
iPhone 11/PRO + Max
iPhone 12/PRO + Max & Mini
iPhone 13/PRO + Max & Mini

All similarly sized Android devices from Google, Samsung and other manufacturers.

The holder is compatible with handheld devices that will fit the dimensions specified: Width 2.4 - 3.82" [60 - 97mm]

Depth range: up to 0.67

Verify the dimensions of your device with a case / popsocket when determining the overall size.
Dimensions

Phone holder width range: 2.4 - 3.82" [60 - 97mm]
Phone holder depth range: up to 0.67
Arm overall length of 2.4" and socket-to-socket length of 1.77" [45mm]
Weight Capacity: 2lbs under normal use 1lbs under heavy-duty use
Fully adjustable with 20mm ball system
Warranty

LIFETIME WARRANTY

All Offroam products are guaranteed against manufacturer's defects for an unlimited time. Should a product fail due to a defect in materials or craftsmanship, we will, at our option, repair or replace the item at no cost to the original owner.

We will make the determination of what will be covered under warranty at the time that we inspect the product. This guarantee does not cover normal wear and tear, misuse, or improper installation. 

LIMITATIONS

Only product that is purchased and received directly from Offroam or our authorized dealer will be covered by warranty. Warranty is only applicable to the original owner with proof of purchase from Offroam or our authorized dealer.

LIABILITY RELEASE

We have designed and built our vehicle-specific products to work well only with compatible vehicles & devices, and we believe our gear is very safe to use.

Offroam is not liable for damage to phones, equipment, vehicle components or anything in your surrounding environment as a result of using our products.

Offroam is also not liable for bodily injury to yourself or others as a result of using our products or improperly installing them.
Share
Good quality phone mount
Should have ordered this sooner. Real good quality. Worth the price. And works like a charm when putting phone into and taking it out.
The best mount for tundras
Super well machined and solid aluminum mount you get what you pay for and it's well worth it I bought a second for my spod controller and that works very well too. Highly recommend these I wish they were more talked about.
High Quality Item
I still can't get over how well this works. Designed and machined very well. Sits solidly and sturdy on the vent. It looks so good and I get happy every time I get in the truck and mount my phone.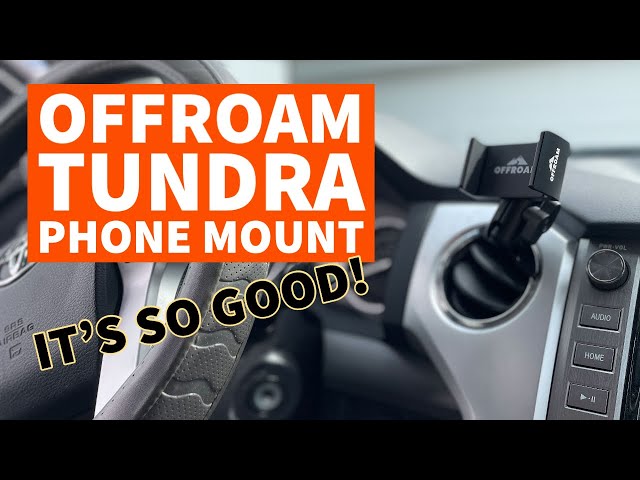 Dear Charles, thank you for your very kind words and the video! Love how it turned out! We are so happy to hear the Offroam mount brings you a little joy every time you get into your truck :)
Happy Trails,
Alexa
Great Product
Purchased this for my husbands Tundra. I am impressed with how the product fees. Quality manufacturing. It is not the least expensive option, but you get what you pay for. Installation was very easy and works great. I will not hesitate to purchase again.
Thank you
Solid Metal. Need I say more?
Nothing flimsy about this piece of equipment. Instructions were very clear. Easy to mount for my Tundra. And last but not least, very little plastic involved. Unless you absolutely abuse this thing when changing vent positions, this is a buy it for life product!